The Phoenix Contact Proficloud is the optimum platform for IoT-based automation and can be used to set up flexible, optimized processes and integrate third-party applications.
Based on an open platform, even manufacturing companies and service providers can establish their own web applications, as well as develop and operate services and mobile applications.

To implement the guiding principles of Industrie 4.0, production facilities across the world must be comprehensively networked, and field devices must be complemented by software services.
This is the only way to reliably exchange data safely and reliably between the machines as well as integrate external information into the overall solution.
In doing so, the consistent implementation of a scalable cloud architecture by means of Proficloud, ensures the required performance and flexibility in your automation scenarios.
New market opportunities with Proficloud

Easily, quickly, and efficiently generate new business models with Proficloud.

Users can easily operate their own software for data acquisition, analysis, and visualization on the cloud platform, for example. This information can then be offered to other devices if required, with secure access.
As a machine manufacturer, you can now also offer maintenance services, for example, in addition to system sales.
Furthermore, data can be aggregated worldwide, and comprehensively evaluated through integration with big data applications.
The hybrid cloud enables Internet-supported implementation of specific services with public providers, while applications and data that are highly in need of protection remain safely in-house.
Furthermore, third-party applications can be easily connected and integrated into internal solutions.
Proficloud device communication is protected by means of TLS encryption
One key advantage of the Proficloud is the secure platform, which permits a high degree of access protection and availability.
The data transmission of Proficloud devices is protected through TLS encryption (Transport Layer Security). A connection can only be established by Proficloud devices.
Even the web application for configuring the Proficloud is transmitted to the user with HTTPS (HyperText Transfer Protocol Secure) and is thereby securely protected against unwanted access.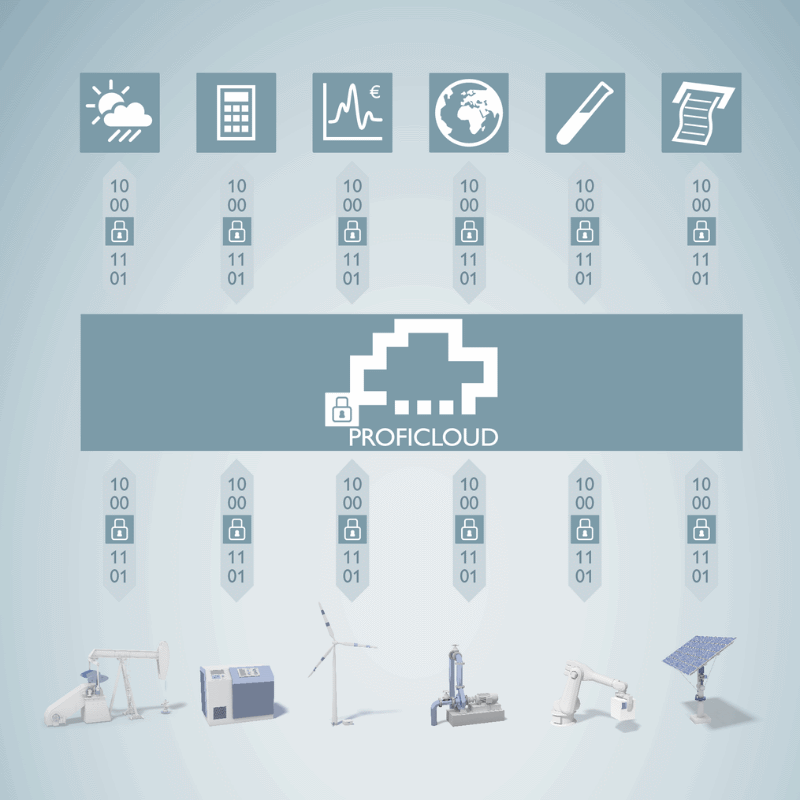 Proficloud is available
Intelligent cloud devices that combine and evaluate communication between the various data sources and forward it to the appropriate places, are required in order to implement advancing digitalization in industry.
Cloud services can be easily integrated into your automation solution. Extend applications with services such as monitoring, reporting, energy data management, calculations or preemptive maintenance. To do so, use ready-made services from our range or create your own individual cloud services with our software development kit. The options are almost unlimited. 

Phoenix Contact is your partner for your business model
To use Proficloud, cloud credits are required. The credit is simply activated in the cloud application. Invoicing is carried out in units. Your advantages are:
Full cost control and no contractual terms, thanks to the pay-per-use model

Implementation of flexible business models, thanks to adjustable price models

Low administration effort, as you can use your credit for multiple cloud devices
Learn more about the Phoenix Contact Proficloud on the Phoenix Contact Homepage and inside this community under Proficloud system introduction!