The Linux operating system on the AXC F 2152 permits access via the Secure Copy Protocol (SCP).
Depending on authorization, the file system as well as the system shell can hereby be accessed.
This document illustrates access using the WinSCP open source tool. The PuTTY freeware tool,
which can be integrated in WinSCP, is used to access the Linux terminal.
This document is based the release firmware of the AXC F 2152, WinSCP 5.9.3 and PuTTY 0.68
Watch also our Tutorial Video - WinSCP and a few useful Linux commands
Installation
1. Download the WinSCP and PuTTY installation files.
https://winscp.net/eng/download.php
2. Create the folder "C:\Program Files (x86)\PuTTY" and copy putty.exe to this folder (see Fig. 1).
If PuTTY was installed using the Windows Installer file (.msi) this step can be skipped.

Figure 1 PuTTY terminal program
3. Execute the WinSCP installation file. It is recommended that you select the typical installation with "Commander Interface".
Connection establishment
1. Start WinSCP and enter into the upcoming login dialog the IP address (default 192.168.1.10) with the user credentials.
The default user name is "admin" and the initiate password printed on the PLC.

Note:
We strongly recommend to change the initiate password after the first login!
2. The connection can now be established by selecting the "Login" button (see Fig. 2).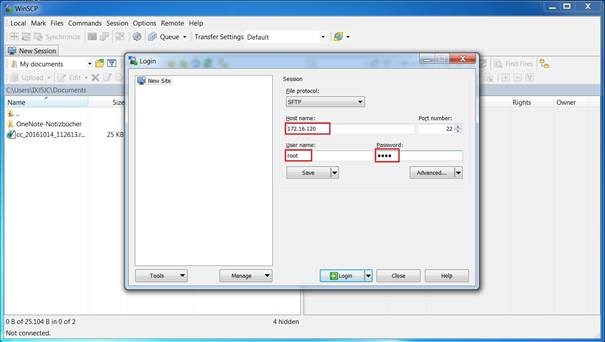 Figure 2 WinSCP program
3. When connecting for the first time, a warning appears stating that the controller certificate is unknown (see Fig. 3).
Confirm this message with "Yes".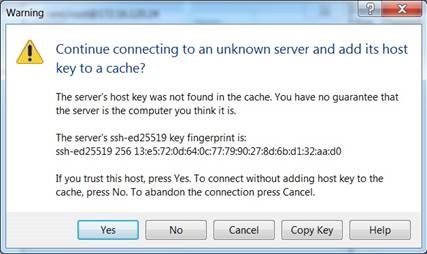 Figure 3 Warning
File transfer and terminal
The directory structure containing data for the local system on the left and the root directory of the PLCnext controller on the right side.
Next to the folder is the owner of displayed, depending on your own permissions (in this example admin) you can now copy files from or to the PLCnext control.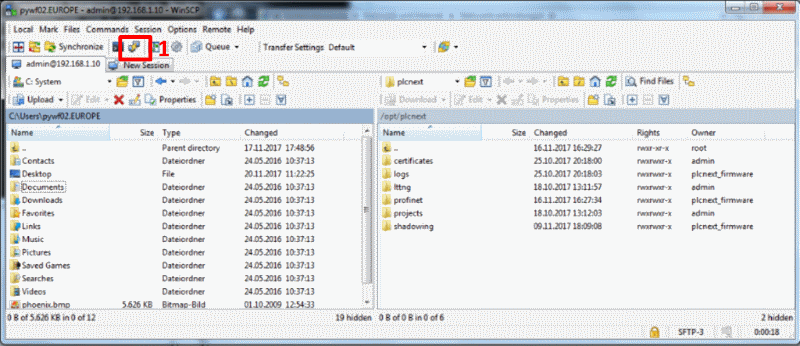 Figure 4 WinSCP program interface
In order to access the Linux operating system, Linux Shell can now be called via the Terminal button (1) .
Additional login is not usually required, however if prompted to do so, the user name and password used in chapter "Connection establishment" can be used.
Note:
Specialist knowledge is mandatory in order to use Linux Shell. Operating errors will not be caught and may, under certain circumstances, cause the system to stop or result in damage to the system.
A few interesting and useful commands are TCPdump and htop, read the following:
System load with htop
Network record with TCPdump