I'd like to use the library ReSyDnp3_V7009 (https://www.plcnextstore.com/#/150) in my project (PLCnext Engineer 2020.0.1 and 2020.3).
After installing the library file on the PC, there are no direct library files in the library folder but a sample project in *.pcweax format.
Opening this file extracts the library files to the default paths:

When opened, a message about missing files appears: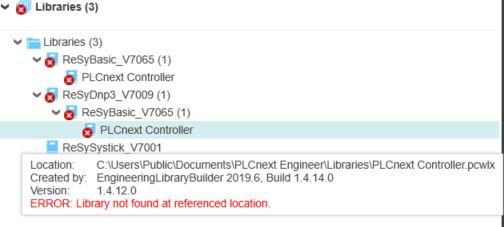 An attempt to add extracted library files ReSyBasic_V7065.pcwlx, ReSyDnp3_V7009.pcwlx or ReSySystick_V7001.pcwlx to a new project results in the same message.
Is there a problem with the library or with a newer version of PLCnext Engineer?