New Firmware 2019.9

With Firmware 2019.9 , we introduce another bunch of new features in PLCnext Technology. This time it's all about making life in the PLCnext ecosystem easier for all you hardworking engineers:
With the new LDAPs access mode, user management will be much easier: the "Lightweight Directory Access Protocol" (here over SSL, so therefore it's LDAPs) allows to manage all the users on all your controllers from a single point, e.g. your Active Directory. Read more on this feature and how to implement it in the 2019.9 release of the PLCnext Technology User Manual (PDF here).
In addition, you can use more features for Diagnostics from the Web-based Management and force I/Os. And of course there are some bugs fixed. So if you're already hooked on one of our feature updates (2019.3, 2019.6), don't hesitate and update to Firmware 2019.9 now, and don't miss the updated SDK for your Operation System, and the PLCnext Engineer 2019.9 update.
New online manual: PLCnext App Integration Guide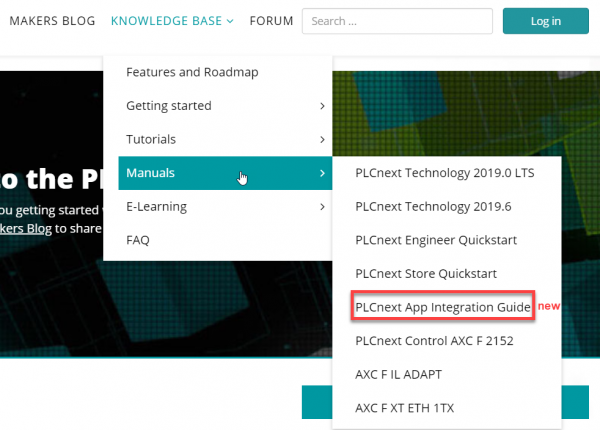 Do you have something special everyone should have?
Do you want to share your stunning project or your smart PLCnext function with the world at PLCnext Store and need some help getting it off the ground?
Here's a little guide how to create your app for the PLCnext Store.
New webinar: eHMI with PLCnext Engineer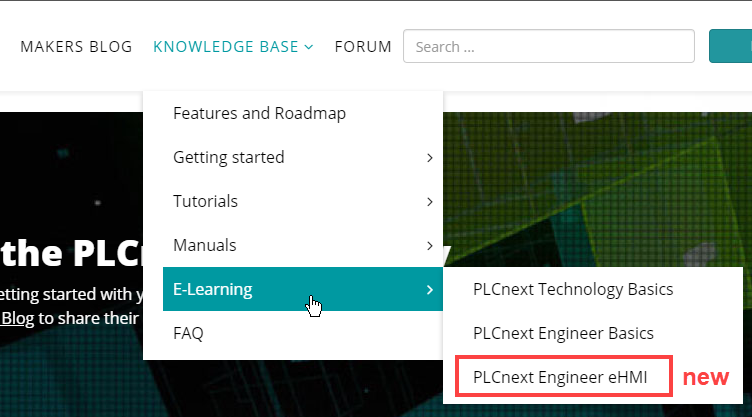 Eager to work with the advanced eHMI functions of PLCnext Engineer 2019.x?
After accomplishing this new E-Learning session, you can dive into creating your own PLCnext Engineer visualization right away.
These are the main topics: Read more ...
We need you

Dear PLCnext Community: WE NEED YOU!
You are a part of the PLCnext Community? You use the forum, Makers Blog or the knowledge base regularly? Well, then we are looking for you because we would like to feature you in our Phoenix Contact magazine.
Please let us know if you would like to be interviewed and tell us about your experiences with PLCnext Technology and the PLCnext Community. We will then contact you and talk about the details.
Comment our post here (make sure you are logged in) and give us permission to contact you.
Talk to you soon,
Your PLCnext Team
Firmware 2019.6

With Firmware 2019.6 , we introduce new and thrilling features in PLCnext Technology - again.
The most interesting thing is our innovative real-time, task-synchronous DataLogger. Record energy data or process steps in next to no time! With the "Record on Change" function, you can keep track which states have changed and when they did. And this all with minimum effort and without programming on your side.
In addition, the embedded OPC UA Server supports Historical Access, so you can access all data recorded by the DataLogger at any time. Read more details on GitHub, and find a config file there.
Firmware 2019.6 also supports MRP Client functions with Profinet devices: The Media Redundancy Protocol (MRP), standardized as IEC 62439-2, allows rings of Ethernet switches to overcome any single failure within a recovery time much faster than achievable with the Spanning Tree Protocol. This feature is highly useful and suitable for most Industrial Ethernet applications.
All the new features will be thrilling to explore, and so we added enhanced performance to the real-time execution as well.
New Video: PLCnext Store - install unexpected possibilities

A woman works in a bar and has to walk home in the dark every night. Her colleague likes her and knows somebody at the municipal utility but what does all of that have to do with the PLCnext Store?... Watch this new video about the PLCnext Store now available on YouTube and find out.
Read more ...
Hannover Messe 2019: new releases

During the Hannover Messe 2019, we updated you about new, innovative products from Phoenix Contact through daily livestreams - two of them were about the PLCnext Store and the new PLCnext Control RFC 4072S. Watch the videos from our livestreams here...
Read more ...
Available now: New Firmware 2019.3

The brand new Firmware 2019.3 is out now:
Use the Profinet Redundancy Layer (PRL) for Profinet devices in order to set up a PLCnext Control AXC F 2152 as an underlying device for the RFC 460R in a redundancy system.
The new dynamic bus configuration for the Axioline local bus allows you to configure the Axioline bus from the application* without having to manually assemble the bus structure beforehand. These and other new firmware features will #enhance your possibilities in PLCnext Technology - again.
The Inline adapter terminal AXC F IL ADAPT is supported by the firmware as well as the new PLCnext Store App types: the first Function Extensions and Runtime apps are now available.
* read, configure and start the Axioline bus using the Axioline RSC Service or the corresponding PLCnext Engineer Function Block - this is not related to the PLCnext Engineer feature "Read Axioline Bus"