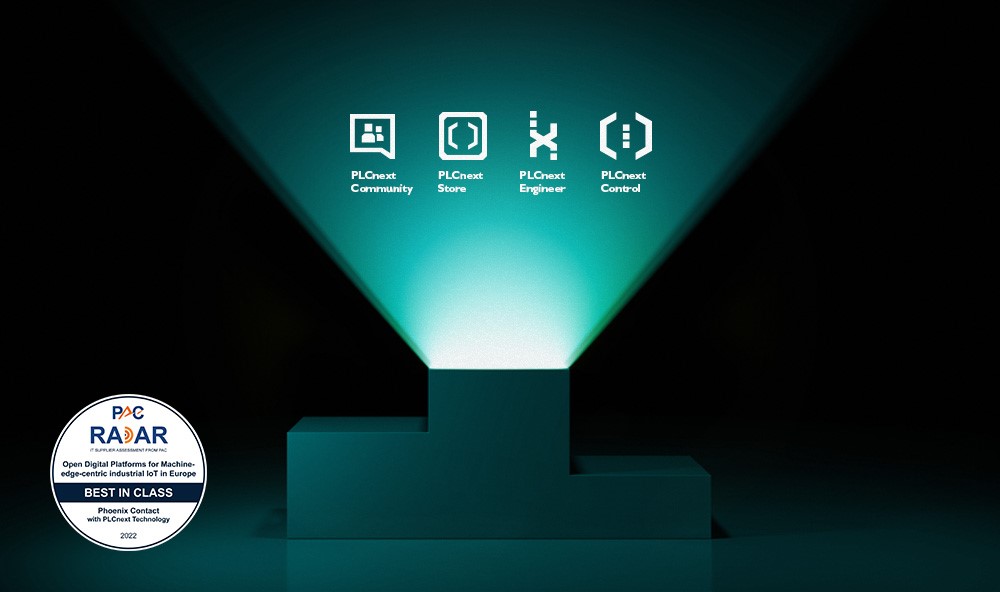 PLCnext Technology designed by Phoenix Contact is rated as "Best in Class" in the category "OPEN DIGITAL PLATFORMS for Machine-edge-centric Industrial IoT in EUROPE 2022" by PAC INNOVATION RADAR. The study was conducted by Pierre Audoin Consultants (PAC) GmbH, examined nearly 120 platform providers and evaluated 66 of them in the European market.
"PAC annually evaluates the vendor landscape around open digital platforms for industrial purposes in the European market. The focus of these RADARs lies on differentiating between different concepts and evaluating new emerging topics. The 2022 launch of the Open Digital Platform for the Industrial World in Europe Innovation RADAR adds two emerging topics into the evaluation – secure, zero-touch industrial IoT deployments, and software-defined vehicles and robots." (source: https://www.sitsi.com/pac-launches-annual-innovation-radar-open-digital-platforms-industrial-world-europe-2022)
Within the study, our open ecosystem PLCnext Technology was positioned as 'Best in Class' with an overall score of 1.91 in the category 'OPEN DIGITAL PLATFORMS for Machine-edge-centric Industrial IoT in EUROPE 2022'. Other participating IT providers included Bosch Rexroth, Siemens, KUNBUS and Mitsubishi Electric.
This score puts PLCnext Technology at the top of the evaluation – the average score was 2.51. The study's rating system resulted from a combination of the 'Competence' and 'Market Strength' components. The study participants were categorized as 'Best in Class' (1.0 – 1.9) 'Leading edge' (2.0 – 2.9) and 'Emerging capability' (3.0 – 3.9).
Machine-edge-centric industrial IoT platforms use container technology for simplified application deployment and real-time processing 'at the edge of the machine' (PLC, IPC). With our PLCnext Technology ecosystem we are offering an open approach, which allows cloud connections to be used to extend the edge platform for data storage and AI training, and enables connection to an industrial app store. Users can choose from a number of different apps provided by Ecosystem partners via the PLCnext Store.
"There are several good reasons why we rank PLCnext Technology designed by Phoenix Contact as Best in Class in machine-edge-centric industrial IoT in 2022 – a working business model, a strong open-source approach, as well as a fast-growing developer ecosystem and industrial app store." (Arnold Vogt, Head of Digital Innovation & IoT, PAC)
PAC INNOVATION RADAR uses graphical representations and written analyses to evaluate the positioning of various IT vendors within a defined market segment at a given point in time.
Click here and get more information >>