Visit the PLCnext Factory
Join us and enhance your automation thinking
Contact us for a PLCnext Factory Tour!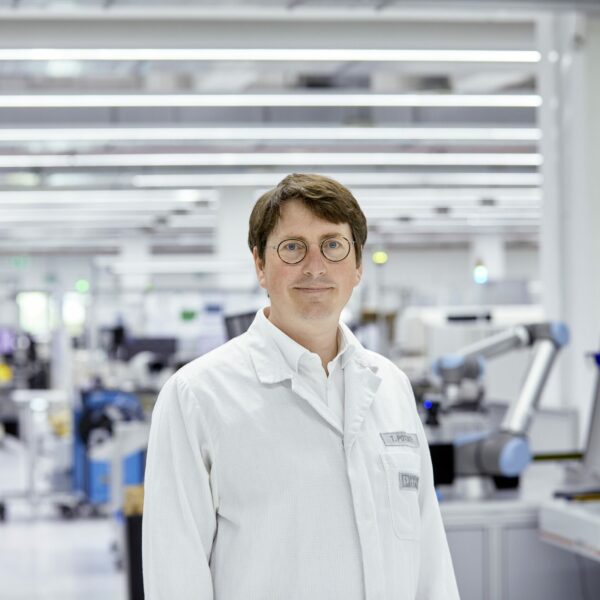 In a rapidly changing world, we have to think production in new ways every day. For us, digitalization is the key. We move limits daily, are flexible and open for new ways of collaboration. So are our products.
Dr. Till Potente
Senior Director Production and Engineering
PHOENIX CONTACT GmbH & Co. KG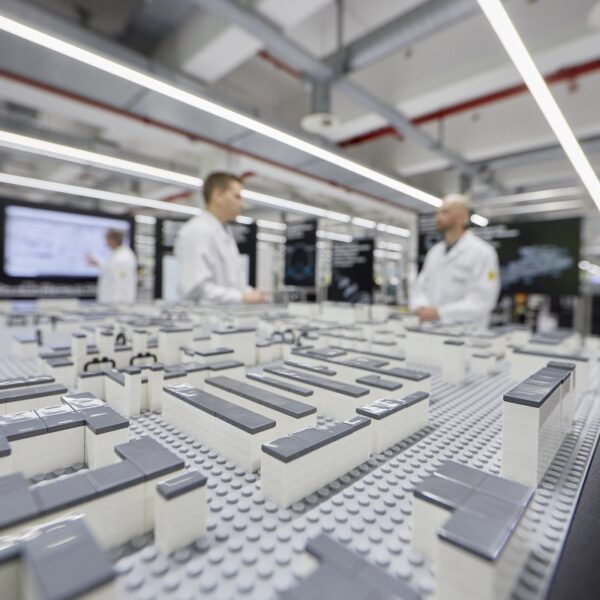 Mindset is the basis for digitalization – Experience it in the PLCnext Factory
Digitalization requires more than just technological change and new automation solutions, machines and systems.
Above all, digitization means having the courage to change, the courage to try out new things and to put the tried and proven to the test.
The goal of any digitization strategy must therefore be to establish not only new technologies and innovative technical solutions, but also truly new thinking and new behavior within the company. This is the only way to successfully tread the path of digitization.
The open Ecosystem PLCnext Technology is based exactly on these principles. Our vision is an ecosystem that changes the industry. What turns competitors into partners, what promotes collaboration and community. An automation Ecosystem that assumes we need to leverage crowd-sourced know-how and can no longer think up everything ourselves if we want to be efficient. PLCnext Technology promotes complete networking.
The basic idea and spirit behind the Ecosystem PLCnext Technology can be experienced live: on a digital tour through our PLCnext Factory.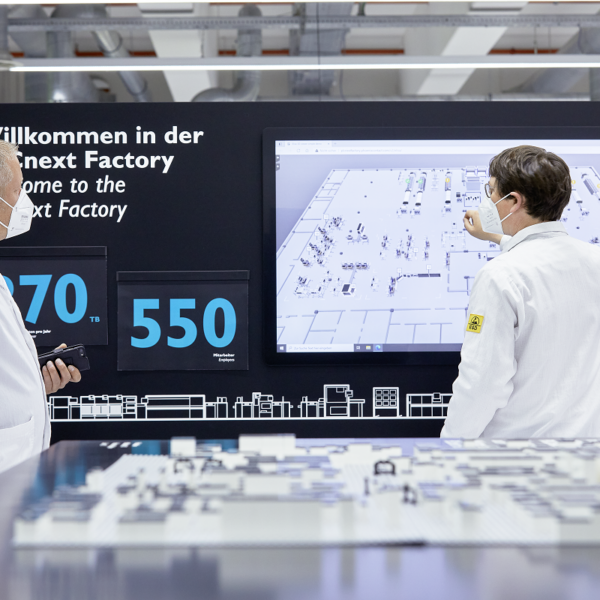 New thinking in processes, working methods and management – PLCnext Factory
The greatest challenge of digitization is not the installation of new technical solutions but the establishment of a new, digital mindset across all hierarchical levels. At PLCnext Factory, we live this new mindset and promote change. We break with hierarchies, change management processes and involve our employees in decision-making processes. This is the only way we manage to optimize something every day.
While a few years ago psychological approaches were often dismissed as a nice gimmick, today we definitely know that efficient action cannot be considered rationally alone. For example, a logical process with trained employees can still have an error rate of 30%. Therefore, in the PLCnext Factory we use the latest findings from psychology and behavioral economic methods to increase efficiency.
In addition to the combination of lean production with various agile methods, we demonstrably avoid human errors through nudging, for example. What nudging exactly means, how we make workflows more intuitive and transparent and how we increase our effectiveness, you will learn during a tour through the PLCnext Factory.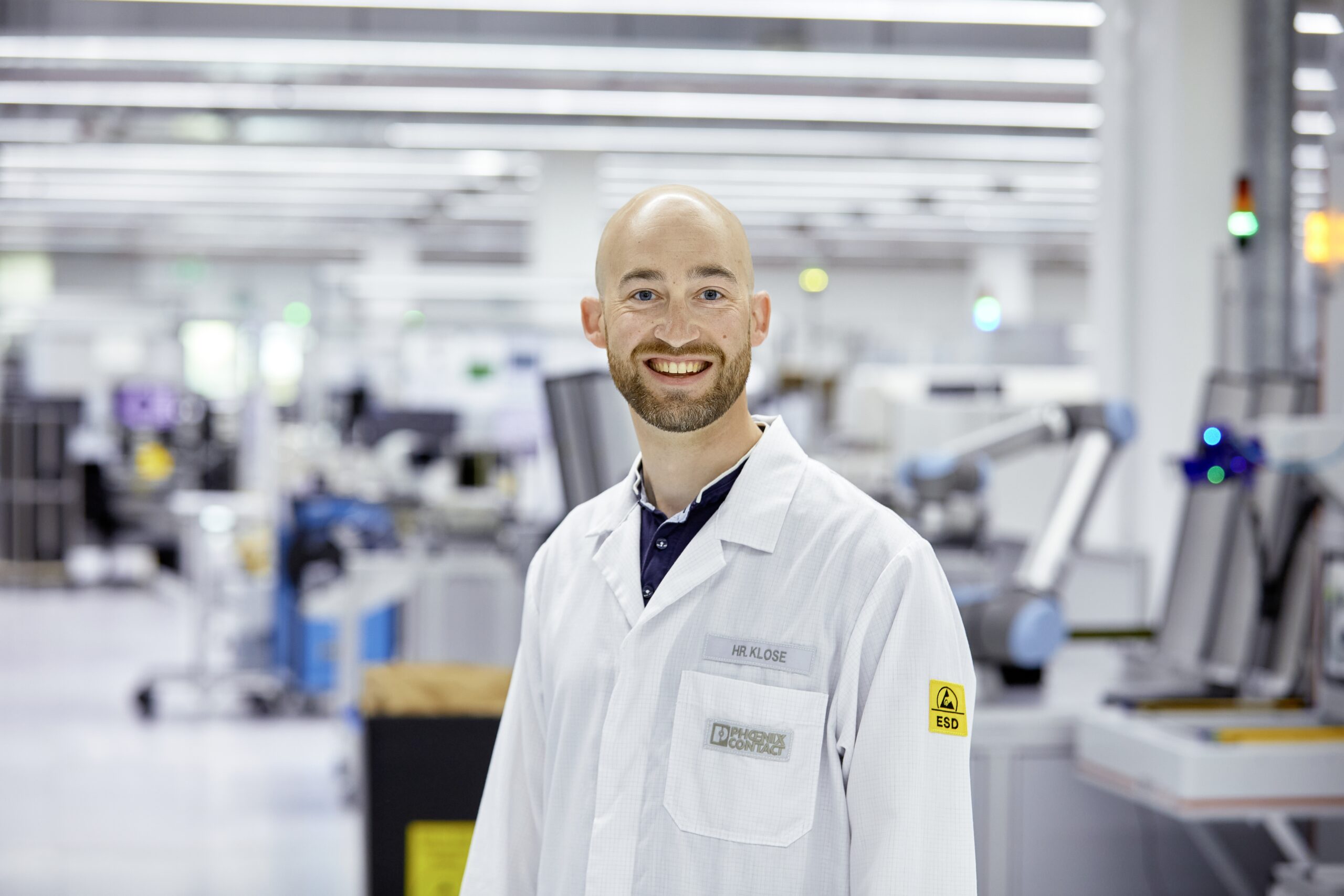 You can't talk about digitalization and the future of production without rethinking established processes and ways of working. Therefore collaboration, without rigid hierarchies is for us the key.
Sascha Klose Manager Production Development
PHOENIX CONTACT
New thinking in the digital Production – PLCnext Factory
The continuous development of our processes and the establishment of an update-capable production are central goals of PLCnext Factory and probably the biggest challenges on our way to a digital factory.
Flexibly adaptable processes are more important than ever, that is well known, but what does that mean exactly? What changes need to be initiated to make processes more flexible and at the same time more robust? In the PLCnext Factory, we have set out to replace traditional, monolithic software structures with a microservice architecture. Our goal is to be able to make adjustments during operation and to build a production structure that can be technically updated. This requires a scalable infrastructure, the introduction of failure detection processes and various new software modules.
In the PLCnext Factory, we now collect, store and interpret numerous production data and can thus already improve production processes on the basis of mass data evaluations.
In our electronics production, we keep an eye on 228 workstations and 1.3 million data points every day. We store more than 270 terabytes of data per year. In cooperation with innovative start-ups, we are testing new ways to detect anomalies at an early stage and to keep getting a little better in the long term.
We invite you to a live tour of our production and will be happy to show you how we were able to retrofit existing systems without a new CE conformity test, for example, so that we can now also read data from old system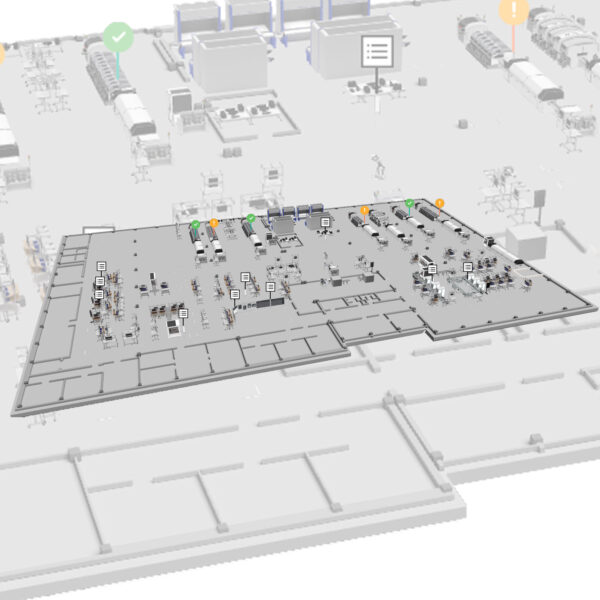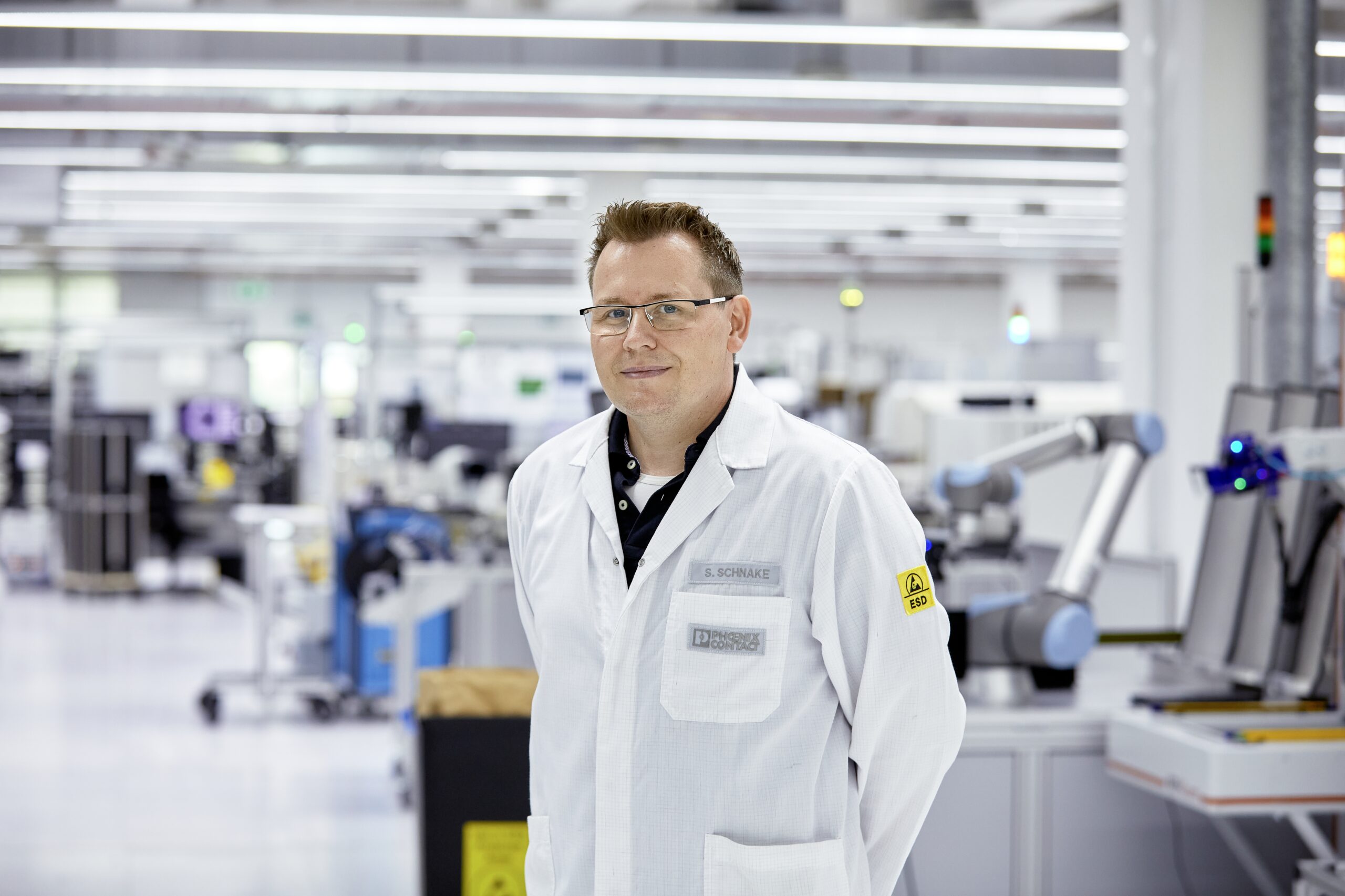 What we used to have only as a feeling in our gut, we can prove today. Today, we evaluate data, use the software know-how of start-ups and can thus detect anomalies at an early stage, recognize machine conditions without traffic light signals, improve product quality and initiate and measure optimization of production processes more quickly.
Stefan Schnake Manager Manufacturing Data Support
PHOENIX CONTACT
New thinking for innovative products – PLCnext Factory
In addition to a digital mindset and new software tools, innovative automation products are of course also needed to digitize the infrastructure in production. Open, flexible and adaptable, but at the same time more reliable and safer than ever, future-proof products and solutions for factory automation must be today.
In the PLCnext Factory we produce numerous of our innovative products for the construction of such modern automation solutions.
In addition to the family of our open programmable PLCnext Control controllers, the PLCnext Factory in Bad Pyrmont also produces functional safety components, smart network technology and reliable cyber security products.
In addition to the manufacturer, we are also users of all innovations from Phoenix Contact and subject them to the first practical test. Based on our experience, we can offer practical ready-made solutions for the digitalization challenges in factory automation. During the PLCnext Factory Tour, we will show you some of these solutions live in action in our production facility in Bad Pyrmont.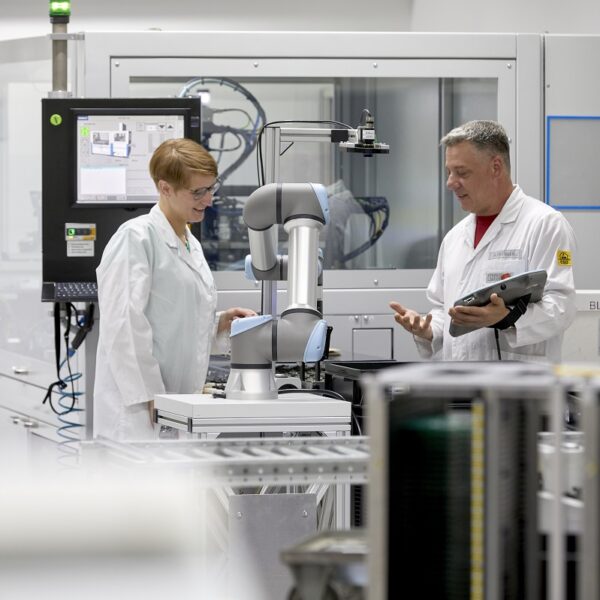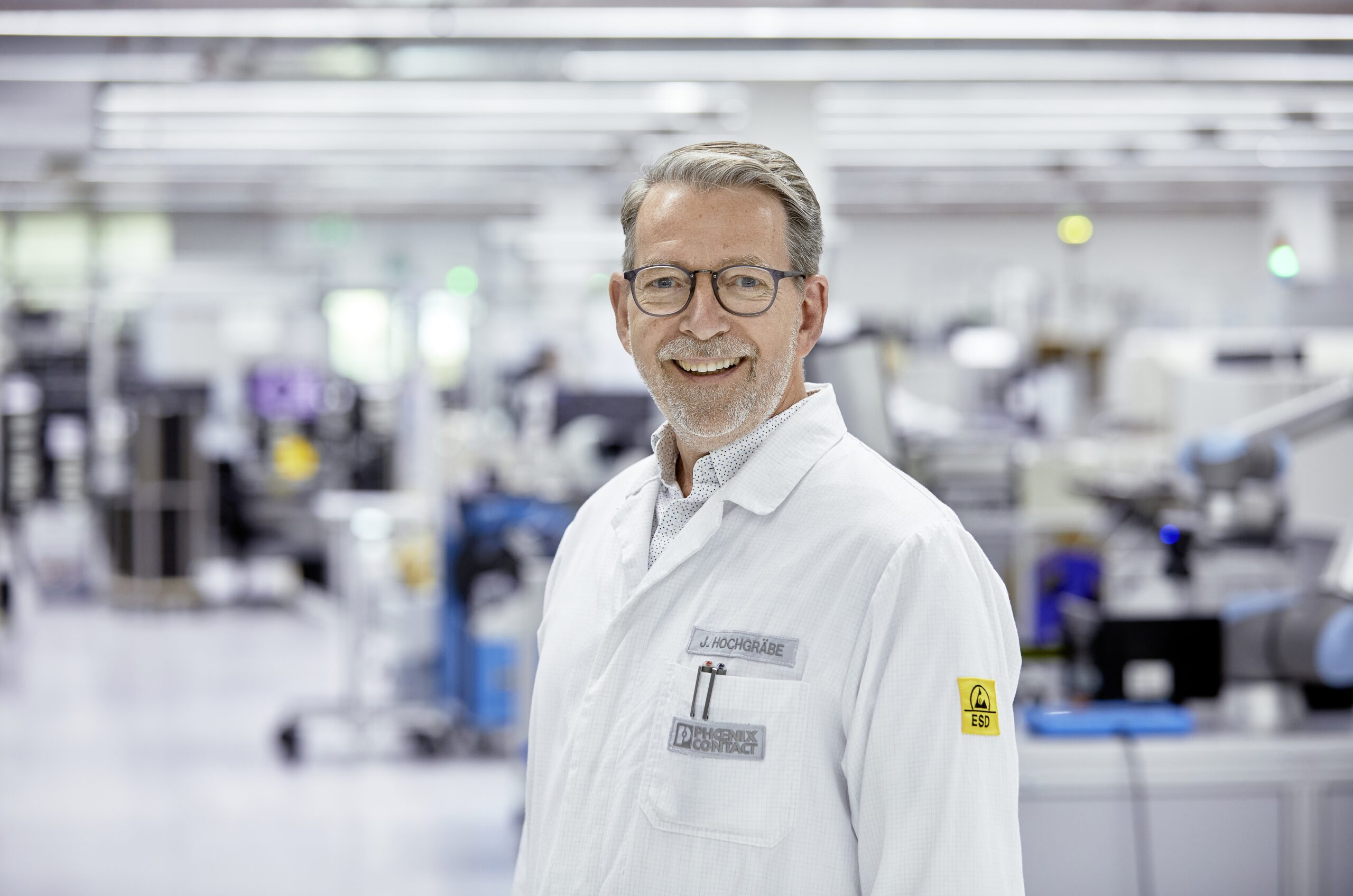 As a production department, we are not only the manufacturer of our products, but also the first internal customer for new solutions. We do the practical test. Our feedback is blunt. This is how continuous improvement and further development succeed.
Joachim Hochgräbe Director Production SMT
PHOENIX CONTACT
Digitalize now!
To ensure that you benefit from the advantages of digitalization as quickly as possible, we will provide you with needs-based support – from installing simple stand-alone solutions to comprehensive digitalization concepts.
Based on real requirements, each of our solutions was developed and tested in collaboration with our PLCnext Factory and successfully implemented in the production process. Today, those solutions are making a decisive contribution to increasing productivity. Our scalable approach enables sustainable production processes for any industry.
PLCnext Factory is the base of Digital Factory now, the holistic concept for the sustainable digitalization of factories consisting of products, solutions and services.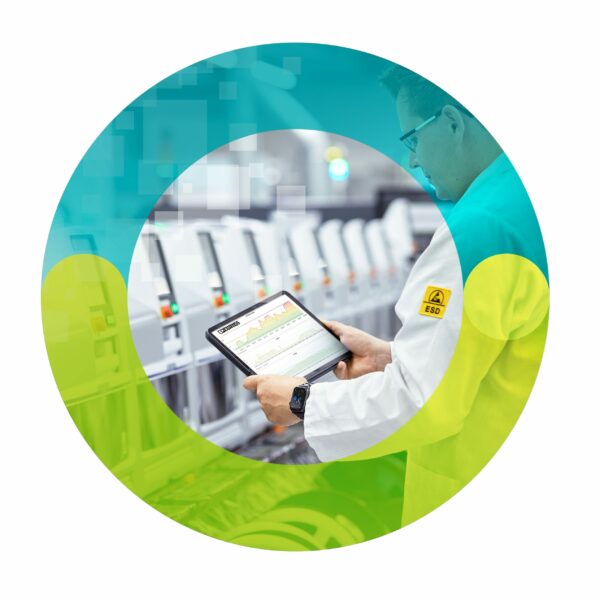 In the e-paper, you can find out why the digitalization of production is essential and how we put this concept into practice in our PLCnext Factory.
2,191 views
0 comments
Save
Share