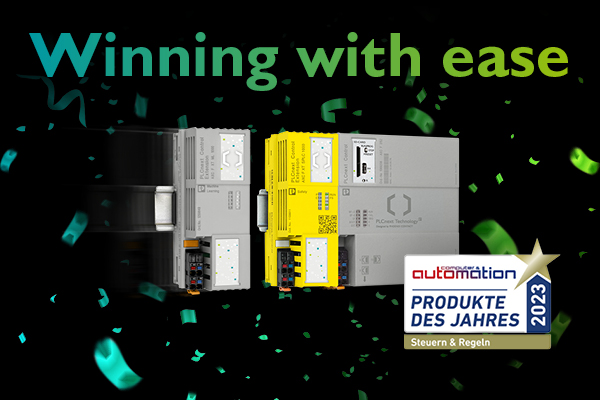 The readers of the renowned German magazine "Computer & Automation" have chosen our PLCnext Control extension modules as their favorite product of the year 2023.
The magazine "Computer & Automation" is one of Germany's leading publications when it comes to new trends and future technologies in the automation industry. Its readers are engineers, developers, innovators, and decision makers within the sector. Or in other words: the ones, who are dealing with current automation issues on a daily basis. Every year, the editors of "Computer & Automation" stage a voting among the readership to choose the best product of that year.
At the end of each year, a vast number of new products that all demonstrate an exceptional degree of innovation is being thoroughly reviewed and tested by the editors. They then pre-select 500 products, which in their eyes have the most potential of making manufacturing processes more effective or easier or both and thus becoming the product of the year. But the ultimate decision is up to the readers by voting for their favorite product through online ballots.
This year the award as the "Product of the Year" in the category controls goes to the PLCnext Control extension modules by Phoenix Contact.
The extension kit is equipped with a mini PCIe slot for connection to a type AXC F 2152 or AXC F 3152 PLCnext Controll. Thanks to its own MAC-address it allows for integrating it into various completely independent networks. The module AXC F XT IB works as an INTERBUS master, enabling a smooth integration and management of existing components. To guarantee the highest level of security possible, the module AXC F XT SPLC 1000 operates under the SIL 3 standard, which can connect up to 32 different PROFIsafe devices.
One of the advantages that make PLCnext Technology products stand out is our philosophy to provide a modular system and open source products. This means that all of our components can be seamlessly integrated into merely any already existing or newly designed environment. PLCnext Control allows for realizing automation projects without any limitations due to proprietary systems, no matter what make or manufacturer. Thanks to their Open Linux operating system they are apt to run on any high-level language or model-based code. This allows for a quick and simple integration of open-source software, apps, and future technologies.

PLCnext Technology is a comprehensive ecosystem consisting of a wide selection of premium electronics components made by Phoenix Contact. Thanks to its highly adaptable approach it can be integrated into merely any industrial (and non-industrial) set-up. The online network platform PLCnext Community connects developers and users of innovative automation projects to exchange ideas and to collaborate on creating solutions on a global scale. Additionally, the PLCnext Store offers a virtual shop for a vast variety of apps that help realize all kinds of different manufacturing or automation projects.
This award is an incentive for us to continue focusing on developing innovative and user-friendly solutions that help our customers implement their automation projects without any limitations.