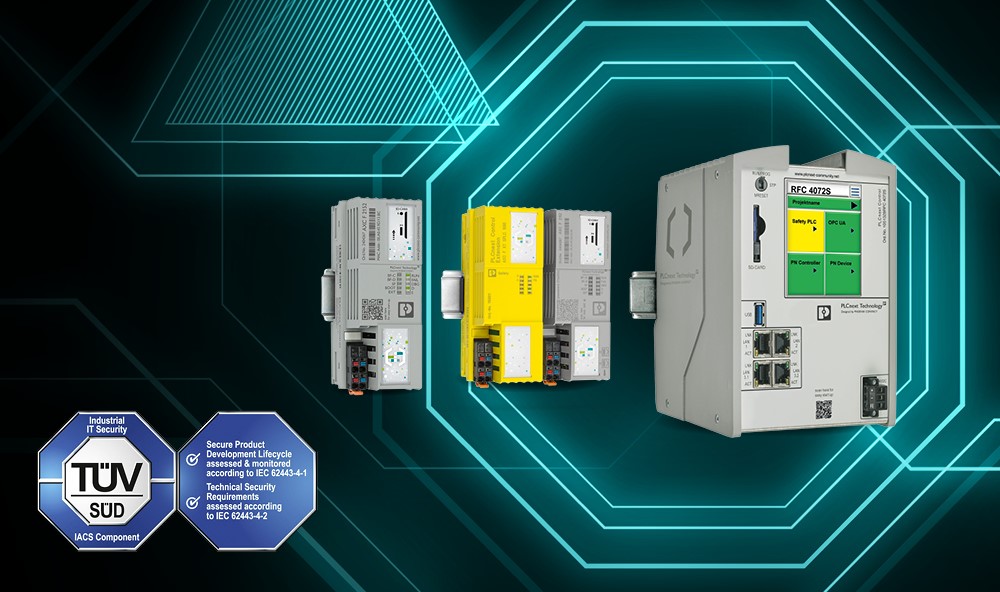 Phoenix Contact is the first company to receive a certification for a controller (PLC) in accordance with IEC 62443-4-2 SL2 and 62443-4-1 ML3. This means that both the ´secure product development lifecycle´ as well as the ´technical security requirements´ for industrial IT security are certified by TüV Süd. Our PLCnext Control are the first PLCs on the market in the automation industry with an IEC 62443-4-2 SL2-certified scope of functions!
As a result, not only the PLCnext Control product family of AXC F 1152, AXC F 2152, and AXC 3152 has been certified by TÜV SÜD by IEC 62443-4-1 and IEC 62443-4-2 but also the PLCnext Safety Control RFC 4072S as well as the PLCnext extension modul AXC F XT SPLC 1000. With the certification for the RFC and the SPLC, two devices of PLCnext Technology for functional safety are now additionally protected for industrial cyber security – and this is certified by an independent testing body (TÜV SÜD).
By activating the Security Profile, users have access to a more comprehensive scope of Security Level 2 (SL2) functions. This certification emphasizes Phoenix Contact's strategy of offering standardized security in products, industry solutions, and consultation services to ensure the future-proof operation of machines, systems, and infrastructures.
"The IEC 62443 standard series defines the security requirements for the development process and the functional product characteristics. Integrating these into an open platform such as PLCnext was a true challenge, which was solved elegantly by introducing the Security Profile," explains Enrico Seidel, Senior OT Security Expert at TÜV SÜD. "Product certification in accordance with IEC 62443-4-1 and IEC 62443-4-2 shows users that a product was developed securely and provides information on which technical security requirements were implemented. Our Certificate Report describes which product characteristic achieved which Security Level," adds Heiko Adamczyk from TÜV SÜD. "Collaboration with TÜV SÜD during development was very goal-oriented, allowing the time requirements of the complex project to be taken into account on an individual basis. 
In automation, IEC 62443 ´IT Security for Industrial Automation Systems´ plays an extremely important role as it considers security holistically from the perspectives of the operator, system integrator, and device manufacturer. The more products are developed in the long-term in accordance with IEC 62443, the easier it is for operators and system integrators to implement security when integrating and operating automation systems, and to ensure security throughout the entire life cycle.
About TÜV SÜD
TÜV SÜD is the reliable partner for solutions in the areas of functional security and IT security. The organization specializes in testing, certification, auditing, and consulting services, and has remained true to its corporate purpose since 1866: protecting people, the environment, and material assets against technical risks. Today, TÜV SÜD is present worldwide at over 1,000 locations, with its corporate headquarters in Munich. With over 24,000 employees, it creates added value for customers and partners by evaluating and reducing risks and opening up access to markets.
Explore the certified PLCnext Control product family: