Codecentric is a German-based software company that specializes in inventing and implementing unique solutions for the specific needs of their customers. From programming and designing custom-made webshops to instituting advanced information security setups to realizing innovative IT/OT architectures – codecentric is prolific in many areas of digital engineering.
A Football Tactics Tool turned social distancing Technology

One of the ways in which codecentric is encouraging its employees to stay on par with digital trends is to have worktime set aside for research sessions dedicated to topics of personal interest. Through such a session a developer got into tracking the positions of football players during a match using video-feed. The project name for this experiment was ´Tactics AI´. When the Covid-19 pandemic hit, methods of keeping track of the number of people at any given space became in high demand. Thus, codecentric decided to deepen their expertise in this field.
They wanted to create a setup utilizing AI-camera-controller units to monitor the size of a crowd as well as the distance between people. Very helpful not only during times of a pandemic for example in museums, stores, offices, public administration buildings, or at cultural events, just to name a few. A team of software engineers at codecentric came up with a suitable solution using a fourth generation Raspberry Pi with a USB Accelerator Coral Device. The components were placed into a case made with a 3D printer. As a camera they used the Ubiquiti G3 Flex.
While this prototype setup was light-weight and inexpensive to produce it turned out to be not very reliable in uncertain environments and also not officially certified. Thus, codecentric was looking for a partner, who could provide them with just the right hardware product for their needs. When codecentric team members saw a presentation by Phoenix Contact at the Data Science Meetup in Bielefeld, Germany, they immediately felt that PLCnext Technology with PLCnext Control just might be the perfect match for them.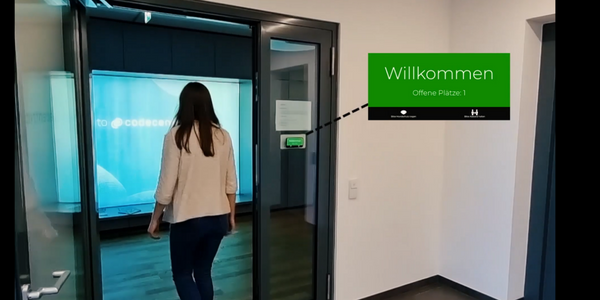 When high reliability is needed, PLCnext Technology makes sense

So, they switched the setup to a PLCnext Control (AXC F 3152) with the PLC extension module for AI applications (AXC F XT ML1000). One of the many advantages of this machine learning module is the fact that it contains an Edge TPU. Therefore, the USB Accelerator was no longer necessary. Thanks to the versatile and open programming capabilities of PLCnext Technology it was rather simple for the software engineers at codecentric to transfer the Raspberry PI code to the PLCnext Technology platform. Another good reason to go with PLCnext Technology is that it allows for easy retrofits of almost any external device, so the existing cameras could still be used.
Since the edge computing processes that are running directly at the controller-unit are container-based, codecentric also installed an Ansible automation tool to facilitate a smooth installation and configuration of the PLCnext Control. Throughout the entire project the team of software engineers was very grateful for the many pieces of advice and support and ideas they gathered through the user forum PLCnext Community. Getting tips and recommendations from peer developers saved them a lot of time and money nerves.
The codecentric solution for tracking crowds of people featuring PLCnext Control is now fully developed. Dr. Meike Wocken, Product Owner at codecentric is extremely happy that they found "hardware components that are highly reliable". Already there have been several successful implementations of the technology such as in an ice area and at an outdoor Berlin music festival. This innovative method for crowd metering will also be displayed at the SPS 2022 convention from November 8th until 10th in Nuremberg, Germany.
One Solution, endless Possibilities

The so called ´Smart DistancR technology´ is capable of helping to comply with Covid-19-related social distancing regulations, as it can be used to monitor public places or stores or offices and send alarm signals once there are too many people in a certain area or when people are getting too close to one another. But codecentric also sees potential for applying this technology in various other areas as well. Thanks to the open-code and open-source mentality of both codecentric and PLCnext Technology, many people and organizations can benefit from this innovative solution.
250 views
0 comments
Save
Share