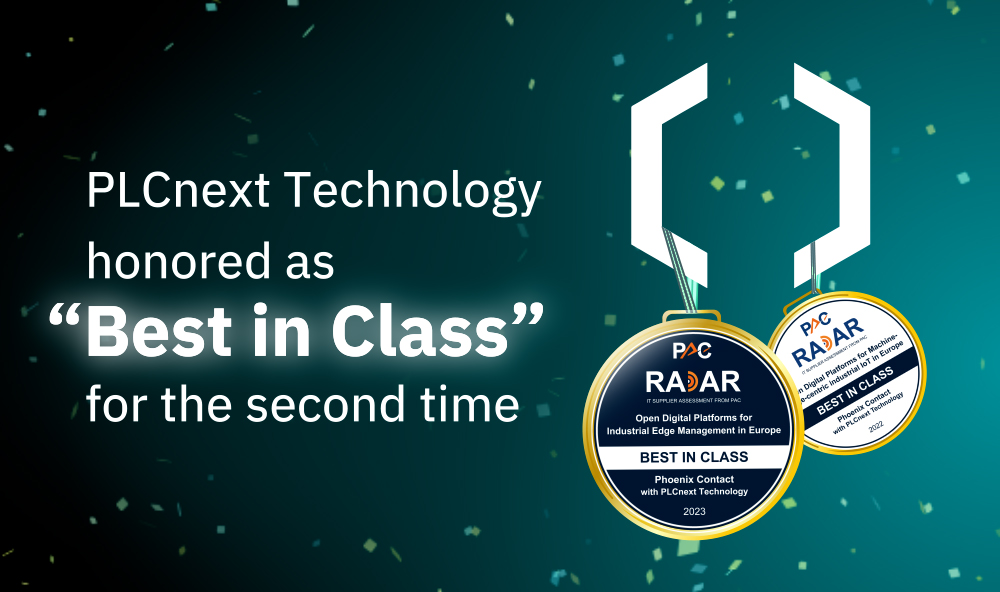 For the second year in a row, PLCnext Technology was ranked as best Open Digital Platform for Industrial Edge Management in Europe.
For over 40 years, the independent market research and consulting firm Pierre Audoin Consultants (PAC) has been renowned in the worldwide IT and software services industry. One of PAC's assets are its comprehensive sets of data analysis concerning the IT world. Each year, they rank the best vendors and service providers within the industry.
Like in 2022, PLCnext Technology was awarded the "Best in Class" accolade in the category Open Digital Platform for Industrial Edge Management in Europe. What impressed the experts at the PAC jury the most, is the open platform approach of the PLCnext Technology ecosystem designed by Phoenix Contact. Or, as they wrote on their website: "In addition to standard programming of PLC systems in accordance with IEC 61131-3, parallel programming, and the combination of programming languages such as C/C++, C#, and MATLAB® Simulink® in real-time is also possible with PLCnext Control."
Not only is PLCnext Technology "open" in terms of its multitude of possible programming languages, but it also provides an open platform for exchanging apps, codes, hints, tricks, and tips among the developer community within the IoT and Digitalization 4.0 world. Under the umbrella of the PLCnext Community, like-minded programmers, developers, engineers, and business managers exchange thoughts, ideas, and insights via this online chat forum. Additionally, the PLCnext Store is like an industrial marketplace for merely any app or code needed to implement any given challenge of realizing PLC setups of any shape or size. Or, as PAC wrote on their website about the "Best in Class" title: "This makes PLCnext Technology designed by Phoenix Contact the ideal ecosystem for your modern automation challenge."
Dr. Tobias Frank, Business Unit Manager Automation Systems at Phoenix Contact remarks as a response to this award:
"This recognition demonstrates the power of our innovative technology in driving us forward to greater accomplishments. It is extremely gratifying to win this award as the best in class for the second year in a row. This honor is especially high praise coming from one of the most respected consulting firms in the international IT industry."
Phoenix Contact was ranked "Best in Class" in terms of competence and market strength. Other competitors in the market review and analysis included Siemens, Bosch-Rexroth, Hilscher, and Litmus.